Med 8. in 14. decembrom smo se tudi mi pridružili projektu "Ura za kodo" oz. "Hour of Code". Gre za globalno gibanje, ki spodbuja učenje programiranja in se odvija pod okriljem neprofitne organizacije Code.org. V eni uri se lahko vsakdo nauči osnov programske kode ob vsem znanih junakih kot so npr. Angry Birds.
Na šoli se bodo izvajale dejavnosti na temo programiranja, vsi pa ste vabljeni k obisku spletne strani 
http://code.org/learn
, da se preizkusite tudi sami.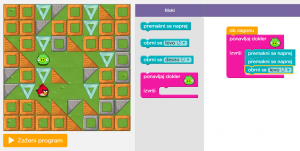 Vabljeni k ogledu fotografij s tedna programiranja pod geslom "Ura za kodo" oz. "Hour of Code".